Welcome
Thank you for taking time to visit our site!.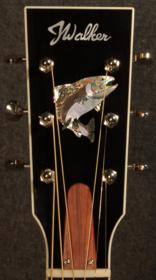 Our Mantra
Continuous improvement is our objective, customer satisfaction our goal, and to build a fine quality instrument that you love to play, our target.
The Product
Currently we are hand building fine flat top acoustic guitars. I have developed a couple of models that span a wide array of player's preferences. The links on the far left side of the page will take you to the details/specifications for each guitar model as well as detailed photos.
Model Names
The guitar models are named after rivers and creeks that I have either fished, swam in or visited over the years. Check out details on the actual waterways under "Miscellany", subtitle "Rivers/Creeks".
The Label
The oval label located inside of my guitars is a picture painted by my grandfather, Stanley H. Walker. He was a pastel artist and this particular picture is named "Natures Wonderland", painted by him in the 1920's. Hope you enjoy it!.
Location
We are located in beautiful western Montana, approximately eight (8) miles south of Alberton. We have some photos of the shop located within the Shop Tour page of our website.
Staff
We are a two person, one dog operation here at John Walker Guitars. John Walker is the luthier/builder, and he can help you decide what best fits your needs and style when you decide that you want to order an instrument. Deb supports John through the business side of the operation, whether it is ordering material or assuring your needs and requirements are resolved in a timely manner. River, the shop dog assists in the greeting of visitors.